Section 12 has been around for a long time. Take a look into our past...
.


1993 - Dilemma Presents 1 - 4 from Dilemma Productions:
Section 12 was born in the mind of Len Mihalovich in 1992. Len wrote a complete comic script, treatments for characters and submitted it to all the major comic companies. The rejections were all the same, the companies would not take a chance on unknown talent. One company however agreed that this was a good script and suggested trying the series with smaller publications.

Section 12 was submitted to Dilemma Productions. Dilemma at the time produced only one title called Legend Killer. The publisher, Michael Kelleher was so impressed by the Section 12 script he agreed to divide both Legend Killer and Section 12 and publish both stories as an anthology.

Dilemma Presents ran for four issues and feature the artwork of Michael Kelleher and Dan Langan. The series was successful and gained attention from critics and the media alike. We got fan mail from all over the world (translation: letters from Canada and Holland). Life circumstances and instability in the Indie comic market got in the way of Dilemma Presents #5 seeing print.

Not quite ready to give up on Section 12, Len Mihalovich shopped the issue around for another publisher.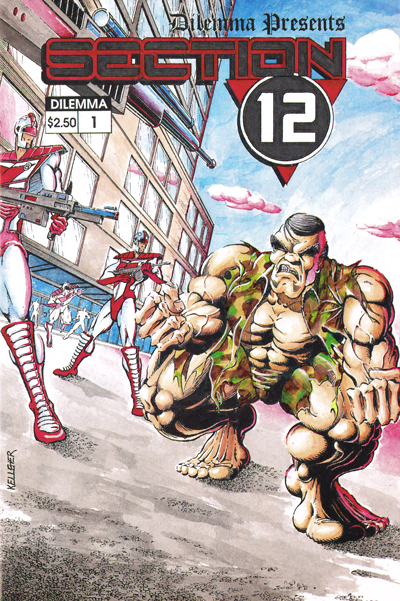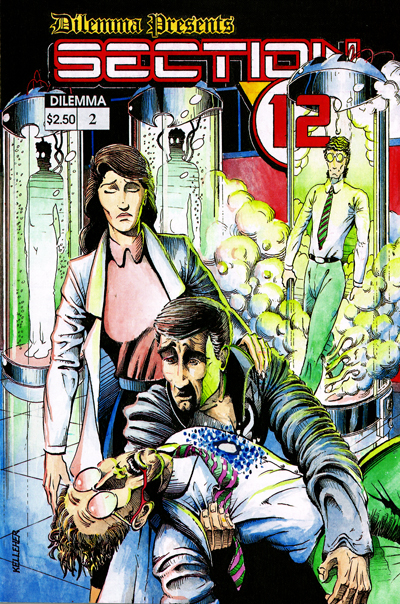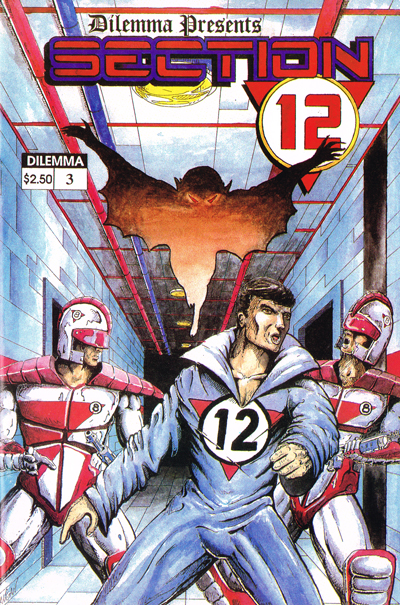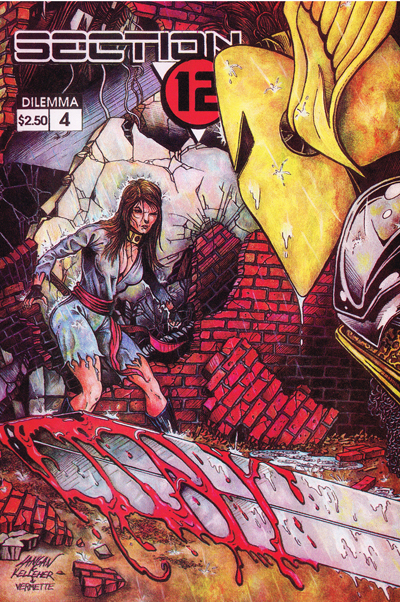 1997 - Section 12 #1 from Mythic Comics:
In September of 1997 small publisher Mythic Comics (of Canada) released Section 12 #1. It was a 24 page book with artwork from newcomer artist Phil Miller. The story was written, edited and lettered by Len Mihalovich.

The issue was critically successful and produced enough sales through the distributor to warrant the publisher printing issue #2. However in the late 1990s the comic book market was changing fast. The second issue of Section 12 was solicited and ready to print but sadly never release. With issues #2 and #3 of Section 12 being finished they were released in ashcan/mini comic format and only sold at a select number of comic conventions. If you are lucky you may find a copy. If not, then both issues are being colored and remastered in Section 12 (Flashback). Len quickly realized in the world of Independent comics it isn't enough to just be a writer, so he added a digital touch to the comic books by lettering the stories and adding colors to them as well. Len is very excited to be working on Section 12 again with the goal to make an enjoyable super-hero comic similar to the stories he grew up with adding high quality digital finishes.